Repair & maintenance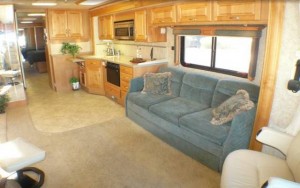 Hancock RV Repair will take your existing RV slide-out rooms, and improve them. Whether the slide out has maintenance issues, or is completely non-functional; Hancock will have it working properly in no time!
Your motor coach / RV slide-out rooms increase the livable interior square footage. Make sure the slide-out is in good repair with Hancock!
New slide-out installation & design
Don't have an RV slide-out room in your motorhome? We custom design and install RV slide-out rooms in RVs for all uses.
Dining slide-out rooms
Bedroom slide-out rooms
Living slide-out rooms
and more! Your idea can be installed in your unit.
The following photos are of a custom slide-out added to a Class C Motorhome for a client.
[ngg src="galleries" display="basic_slideshow" arrows="1″ show_thumbnail_link="1″]
This is a Kitchen Slide-out room restoration done due to water damage on a 1998 class a motorhome: