RV Repair Testimonials: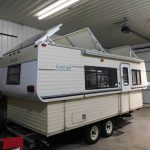 LATEST AMAZING PROJECT COMPLETED BY HANCOCK RV REPAIR AND RENOVATION SHOP. FUNLITE HY LOW CAMPER CONVERTED TO BE ALL OFF GRID.
FEATURES:
3 – 340 WATT ADJUSTABLE SOLAR PANELS,
4000 WATT PURE SIGN WAVE MAGNUM INVERTER,
60AMP RENOGY SOLAR CONTROLLER,
13,500 BTU ROOF AC.
SIDE BY SIDE MARINE FRIDGE THAT RUNS ON 110 VOLT OR DC.
CUSTOMER IS GOING TO STAY IN AS HE BUILDS A HOUSE IN UTAH WHERE THERE IS NO ELECTRIC SERVICE.
WE DO PROJECTS THAT MOST NO ONE IN THE COUNTRY DOES .
I have never owned a pull behind trailer before. I bought a 1969 Nomad, was going to do some work on it myself. Within the first couple of hours, i didn't know anything. I called Woody and he explained that I could bring her in, however, it would be awhile before work started.
I am so happy that I had him do the work on my trailer. His attention to detail was outstanding. He knew I had no idea what I was doing and performed work on issues that I truly needed, but didn't know until after the fact. And he communicated with me the whole time. Any questions I had were answered within less than a day.
If he had not performed all the work and details on my trailer, it would still be sitting empty and me very angry.
I am now traveling and happy as can be!
Oh, and, I called him with a question after having it for 2 weeks already. He informed me what to do, since again, I had no idea. Woody really does stand behind his work. I have no hesitation about contacting him if I have a question.
~ Bobbi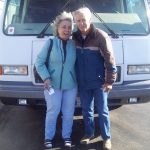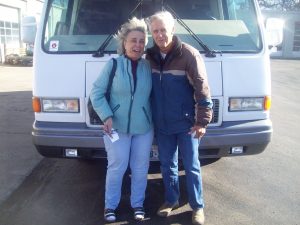 We were looking for someone to do a lot of remodeling to our Class A 27′ motor home. Picking Hancock RV repair service was one of the best choices. Woody made extensive repairs to fit our needs both interior and to the exterior. Fixing leaking roof to changing out interior wood paneling. Christy went out of her way to make sure we had a hotel and airline tickets while the RV was overhauled. Thanks for the great work and service to the whole crew.
~ Dean & Virginia Talley, Oregon
THIS IS A 1956 YELLOWSTONE TRAVEL TRAILER THAT WE CONVERTED TO A MONEY MAKING BUSINESS TRAILER. WAS GUTTED AND MOST OF THE FRAMING REPLACED, NEW R11 FIBERGLASS INSULATION ADDED. NEW ALUMINUM ROOF.ALL SIDE METAL PRO. POLISHED,NEW 30 LB LP TANKS, NEW FRONT HITCH JACK, NEW 50 AMP BREAKER BOX WITH 30FT. POWER CORD, 8 – 20 AMP RECEPTACLES. ALL WIRING IN CONDUIT SO IT WILL PASS ANY CODE. 2- T8 LIGHT FIXTURES. ALL NEW VINYL COVERED WALLS AND CEILING. NEW TIRES, BEARINGS REPACKED, AND BRAKES GONE THROUGH AND PUT INTO GOOD WORKING ORDER. 30 GAL GREY WATER TANK. NEW MOON HUBCAPS. PLEASE CALL FOR MORE DETAILS THIS ONE WON'T LAST LONG.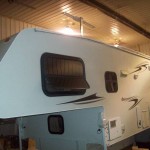 THIS UNIT IS 9FT\'11\" AND 20 FT OVER ALL. BRAND NEW 13,500 BTU DUO-THERM A.C. UNIT; BRAND NEW POWER ANTENNAE FOR T.V.; BRAND NEW SET OF 20 POUND L.P. BOTTLES; BRAND NEW POWER ROOF VENT; BRAND NEW ESCAPE HATCH; BRAND NEW CARPET; BRAND NEW BATTERY; BRAND NEW 45 AMP POWER CONVERTER; ALSO HAS FOUR REMOTE CONTROL POWER JACKS THAT ARE IN GOOD WORKING ORDER; 2 AWNINGS; FRESH WATER, GRAY WATER, BLACK WATER HOLDING TANKS; 6 CUBIC FT NORCOLD FRIDGE WITH FREEZER; 20,000 BTU FURNACE;WET SHOWER AND TOILET; QUEEN SIZE MATTRESS IN THE CAB OVER WITH ENOUGH ROOM TO REPLACE WITH A LARGER MATTRESS; 3 BURNER RANGE WITH OVEN; THE DINETTE ALSO CAN FOLD DOWN INTO A SLEEPING AREA AND HAS A STORAGE SPACE THAT FOLDS DOWN INTO A BUNK; SLEEPS 4-6 PEOPLE; VERY NICE UNIT, LARGER THAN MOST TRUCK CAMPERS BUT WILL FIT A 8 FT. TRUCK BED. GREAT FOR HUNTING AND FISHING TRIPS AS IT CAN BE SET UP AND LEFT IN WOODS OR CAMPGROUND WHEN LOWERED ON THE JACKS GIVING YOU THE FREEDOM TO USE YOUR TRUCK WITHOUT HAVING TO HAUL THE CAMPER EVERY WHERE. SIMPLE LOADING AND UNLOADING WITH THE PUSH OF A BUTTON TO RAISE AND LOWER THE JACKS.NADA RETAIL BOOK VALUE IS AT $19,500 OUR PRICE IS AT WHOLESALE $14,500 O.B.O GIVE US A CALL FOR FURTHER DETAILS OR QUESTIONS.
SOLD!!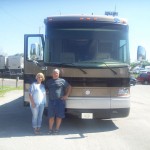 We left our 2006 Holiday Rambler Imperial at Hancock RV Repair in June (2015) to have some remodeling done with a pick up date of July 10th. We are the second owners of the coach and we wanted to make it our own. Not only was Woody quick getting our quote and responding to all our questions but his price was very reasonable as well. We had a residential fridge, MCD shades, wood flooring, new carpet under the slides and surrounding bed and new awning toppers installed. When the fridge was back-ordered Woody went out of his way to get it picked up and installed on time.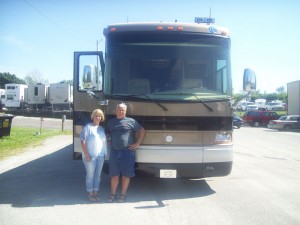 When we picked it up, pride of workmanship was evident and Woody was quick to give Adam his foreman the credit for getting most of the work done. To say the least we are very pleased and would not hesitate to recommend Hancock RV Repair to all of our friends. Thanks to Woody, Adam and the crew for a job well done!!
~ Don and Sharon Lalonde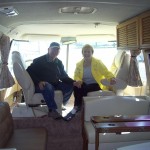 Just this spring ('15) left our 1978 GMC motorhome with Woody and the guys at Hancock RV Repair. We had purchased the unit and it was in good shape but in drastic need of some updating. For a very reasonable price, Woody did a great job of replacing the flooring with some nice Brazilian Tarkett material, carpeting the cockpit area and replacing the captain chairs in front as well as the sofa and a new dinette. We couldn't have been more pleased! He also replaced the awning for us as well.
~ Bill Ezzell
We took our vintage (1971) Shasta to Woody (Hancock RV Repair) to have it made roadworthy. We found him to have reasonable rates and gave us an honest estimate before beginning work. As he got further into our job, he found added issues but did not do these repairs without contacting us first. He'd let us decide what we wanted done without pressuring us to do any more. He even gave us suggestions about additional things we could do to make our camper more useable.
Woody has integrity and knowledge and takes pride in his work. We'll be taking our business to him in the future and will continue to recommend his work to others.
~ Becky and Mike Kock